Ang Qi Pregnancy Pillow Reviews
This U-shaped pregnancy pillow has a comfortable "U" shaped structure. The unique U-Shape covers your full body, and it provides you with the best comfort.
However, this support pillow does not include a detachable extension, but still, it is effective to help in better sleep and comfort for pregnant women.
The body support pillow is not only best for pregnant women, but it can also be used for various other reasons.
This pillow can provide you comfort if you need support to recover from an injury. If you are someone who is tired of using multiple pillows to provide support to the whole body, then this single full-body U-shaped body support pillow can help you out.
And come with a lot of other features that I'm going to explain in this Ang qi Pregnancy Pillow Reviews.
Ergonomic Design
Silk Cotton
Cover Full Body
May not fit larger women
Too soft for some people
Product Specification
Product Name
Ang Qi Pregnancy Pillow

Brand

Ang Qi

UPC

B07BK3JB61

Items Weight

8.58 pounds

Dimension

25.2 x 19.8 x 5.5 inches

Fabric Type

Jersey Knit Cover

Material Type

BPA Free, Phthalate Free, Latex Free, Lead Free

Availability

In Stock

Rating

⭐⭐⭐⭐ ☆ 

4.5

/5

Price
$ 63.29
Ang Qi Pregnancy Pillow Reviews & Features
This body pillow is packed with a ton of features. The material used in this body pillow is just amazing for extra comfort. and this Pregnancy Pillow also list #5 on our list of best pregnancy pillow for back pain. Let's have a look at it features one by one:-
1) Unique Ergonomic Design
This body pillow is unique in its own way. You do not need five other body pillows on your bed when you purchase this U-shaped pillow that provides relaxation to your full body, including neck, spine, belly, legs, and hips. The ergonomic and soft design of this body pillow helps to get relief from all the back pain.
2) Premium Cotton Filling
This U-shaped pregnancy pillow is filled with pure cotton. The cotton used in this pillow is of really high quality with amazing softness.
This is not any typical cotton. It is the silk cotton used to fill these pillows. Silk cotton is softer and more relaxed than any other material. 
This premium cotton filling is very breathable. You will never feel too warm while lying down on this pillow.
The material of the pillow cover is really soft, and you can easily wash it if it gets dirty.
3) Providing Deep Sleep
Most of the time, pregnant women feel uncomfortable while they are trying to fall asleep due to the sleeping position. The pillows play an important role in providing you with the best comfort. If you are unable to sleep deeply, then you may need to change your traditional pillows.
Use this U-shaped pillow instead. It relieves from back pain, which is pretty normal between pregnant women. It also prevents any kind of pressure on life and hypertension.
Once you settle on your U-shaped pillow, your mind will be more relaxed than ever. You will fall asleep fast, and you will be able to sleep deeply without any interruption.
4) Multi-Functional
This pillow almost suits any type of sleeper. It does not matter if you are a side sleeper, stomach sleeper, or back sleeper; these U-shaped pillows will perfectly relax your body.
It also provides you with comfortable positions to read books or watch TV. You can use this pillow on your bed, sofa, or anywhere else. This body pregnancy pillow can also be a great relief for any person who has a surgical condition.
It is not only limited to pregnant women, but other family members can also use this pillow to relax their muscles.
Ang Qi Pregnancy Pillow Benefits
The U-shaped pregnancy pillows offer you a number of amazing benefits to provide you with relief during your pregnancy period. Let's have a look at its benefits one by one.
1) Belly & Hip Support
The pillow material helps you to support your hips and belly. You feel more comfortable because the pillow is also covering the side of your hips. It feels right for your belly. The belly comfort is assured with this u-shaped pillow. 
2) Multi-Use
The pillow is not only used by pregnant women, but you can also use it after surgery to provide extra comfort to your dear ones. You can configure this u-shaped pillow at literally every place, whether it's your bed, couch, sofa, or even floor. The detachable extension is not included in this pillow. If you are someone who feels great while covered from all sides, then there is no need for a detachable extension.
3) No more multi-pillows
This single pillow is enough to replace five other pillows that you may use for good night sleep. The u-shaped pillow supports your neck, head, belly, spine, hips, back, and legs.
You will never again need to rearrange your pillows for comfort because the U-shape pillow is solving all your problems.
4) Head to Toe Support
You do not have to worry about the pillow size. It totally covers your body from head to toe. The polyfill material provides the best comfort to your full body, and it hugs your body to keep it warm and relaxed for longer periods of time.
6) Made from soft-material
The most u-shaped pillows available in the market are made from soft material. This soft material helps in a comfortable sleep and keeps you refreshed. Most of these pillows come with a custom bag used to pack the pillow when it's not in use to prevent any dust. You can also utilize the provided bag to move your pillow from one place to another. 
7) Pillow Cover
Pillow Covers are important to keep anything clean. It is the same case with the pillows. These covers are mostly zipped, and they can easily be removed or changed once in a while. They are machine washable, so there is no risk of getting these pillows dirty. Consider using U-shaped pillows if you want yourself to be covered from all directions while you are on the bed.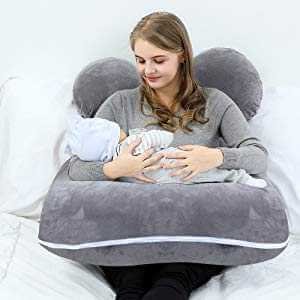 8) Nursing Pillow
This pillow is considered as one of the best body pillows for nursing. You can easily breastfeed your child with the help of this U-shaped pillow.
The pillow is customizable in different shapes, so there is no need to worry about sitting in the correct position.
You can easily turn this pillow in such shape to rest your back with your bed.
9) Suits everyone
This pillow is specifically made for pregnant women, but it does not mean that they can use it only. Any person who is unable to sleep deeply due to discomfort can obviously use this pillow. 
Moreover, the people having back aches or any other surgical condition can also consider using this pillow to minimize all their resting issues.
I believe you found this Ang Qi Pregnancy Pillow Reviews informative and will guide you into an excellent decision, surely.
1) Is This Pillow Better Than Any Other Pillow?
If we talk about other normal pillows, then there is no match for this U-shaped pillow in the market. However, there are other pregnancy pillow options available in the market, but the U-shaped pillow is mostly used because of its simplicity and added comfort level. This single pillow can save space for other five small pillows that you may have on your bed. You can easily replace those with this U-shaped pillow for better sleep.
2) Does It Support Your Whole Body?
Yes, this pillow actually covers you from all directions, and it relaxes your neck. There is a space in the pillow left to expand your legs. Both sides of the body can be easily covered with the help of this pillow. If you have pain in your shoulders, then these pillows are perfect for your back, neck, and shoulder aches. Your hips are also supported by U-shaped pillows for better comfort.
3) Is The Pillow Shape Perfect for Everyone?
Yes, indeed, this pillow shape suits most people depending upon their sleeping position & style. Some people love to sleep one side while others may like to sleep on their stomachs. It does not matter what your sleeping positions &  style is but this pillow will always equally support your body from all directions, so there is no need to worry because the U-shape of this pillow is so versatile with a ton of benefits.
3) What About The Pillow Design?
The pillow design is really simple, just shaped like alphabet "U," but this simplicity really affects your body in a positive manner. The ergonomic design of this pillow makes it really special and stands out from other pillows. There are various color options available for these pillows as well, and you can buy one which suits your taste.
4) Is The Pillow Durable?
Yes, there is no doubt about the durability of this pillow. The material used to fill the pillows is of high quality, hypoallergenic and the cover is really soft yet strong in nature. This pillow can last you for years if you properly take care of it.
5) Can I Use the Pillow Even After Pregnancy?
Yes, you can use this pillow once your pregnancy period has passed. The main motive of this pillow is to provide you the best comfort. You can still use it for sleeping, reading books, watching TV, etc. even after your maternity period.
6) Are There Any Extra Accessories With a Pillow?
No, you do not need any extra accessories to maintain your pillow. However, consider buying a pillow bag if it is not already included in the deal. You can even choose a leather bag according to your taste. These bags will help you to shift pillows from one place to another easily, or you can take them with you on your beautiful trip to make your trip sleeping nights more comfortable.
Pregnant Moms are the greatest in the world. They give birth and bring new life to the world.
All we need to do is give the best and take care pregnant moms, during pregnancy by helping them get rid of unnecessary pain.
Therefore, Out of so many body pillows in the market. Ang qi pregnancy body pillow is one that gets into my attention where the price is affordable yet all the material has used is premium.
 Furthermore, because of its U Shaped, It helps to relieve pressure from all over the body wherever you need easily yet you can use it for so long even after your pregnancy. It really worth the investment for pregnant moms. 
If you still want to explore more other option on U shape Pregnancy pillow. Click here for our best U shaped Pregnancy Pillow.
Leave your comments and questions about this Ang qi pregnancy pillow reviews in the comment section. We promise to answer your questions as soon as possible because we know that you are having the same problem as us.

And don't forget to share this article to help other mommy that having the same problems!