Comfort U Total Body Pillow Review
The Comfort U Total Body Pillow is one of the lightweight, versatile, unique and giant U pillow designed for the pregnant women. Weighing a mere 10.5 pounds, it's the only one so far that is using high premium fiber filling in this U pillow. 
In addition, The manufacturer is confidently guarantee with the premium material, This full size comfort U body pillow will remain its shape, holds its shape, and won't clump or flatten over time.
So, Keep reading our Moonlight slumber Comfort U Total Body Pillow Review.
The Moonlight Slumber Comfort U Total body Pillow will never be flattened, clamped, or knotted, ensuring you get the best rest.
Comfort U pillow measure – 68 x length x 15 ″ full 16, diameter, made extra-large to provide Comfort.
Comfort U pillow gives a lot of support to its user while reading, nursing, watching TV, or just relaxing.
Comfort u pillow case and pillow itself are durable enough to withstand a lot of washing, and it dries quickly for reuse.
It is large, so it also has amazing specifications. Which take up alot of space
The only other aspect we can get is the initial cost of the Moonlight Comfort U pillow. But, it must be said that the price is equal to the value of the pillow. This giant U pillow will pay for you until you have to replace three body pillows.
Product Specification
Product Name

Moonlight Slumber Comfort U Total Body Pillow

Brand

Moonlight Slumber

UPC

680474587070

Items Weight

10.36 pounds.

Dimension

60 x 7 x 35 inches

Cover Style

Zippered Washable and Dryable Cover

Cover Material 

100% cotton

Availability

In Stock

Rating

⭐⭐⭐⭐ ☆ 

4.5

/5

Price

$73.01
Do i Need Moonlight Comfort U Total Body Pillow?
If you are looking for an ultimate full size u shaped body pillow, with more 360-degree support than ever before. Then this Moonlight Comfort U total Body pillow is the one that you are looking for. This total support pillow also gets #5 is our best body pillow for side sleepers.
This Comfort U pillow can only be manufactured by moonlight slumber and it is made in America. This pillow is patented by Jean Kelly which is for her own fibromyalgia pain.
The pillow and case is machine washable, simply unzip the case to wash as needed or place the entire pillow into the washer and dryer, after that just fluff it to make new again.
Made with a synthetic down called Fusion Fiber, the original Comfort U pillow is lightweight, portable, washable, and indispensable. 
It also keeps you stay cool all night long and you will have a nice and healthy sleep during your pregnancy.
Well, after exploring the Comfort U Body Pillow, you will understand how your investment in this product is worth it.
If you have been searching for the best value product, click here to make a purchase from our verified suppliers for an unbeatable rate!
Moonlight Comfort U Total Body Pillow Review and It's Features
It is critical to making the right choice when it comes to selecting a pregnancy pillow for yourself during your pregnancy. It is a must to look at all the features and read up reviews by customers who have already purchased the body pillow. This way you can weigh the pros and cons and decide whether a particular pillow meets your needs or not.
So, Let's take a deep insight into this Comfort U Total Body Pillow Review and explore it's each features
1) Fill with Premium Fiber
What I like the most is about this body pillow is the premium fiber called fusion fiberfill, it is a revolutionary synthetic known to scientists as an "extended polymer" which allows air to flow freely.
In addition, This fiber keeps the pillow firm, soft and also stay cool even you use it for a longer period.
I am impressed with it as during my pregnancy I easy get warm over the night, and this total body support pillow keeps me cooler and more comfortable over every night
2) Ultimate Oversize
This Moonlight Comfort U pillow is a generously oversized U shaped pillow, long enough for you to stretch out and support both sides of your body. 
3) Holds its shape, and won't clump or flatten over time
With many tests has been done. Moonlight Slumber comfort u total body pillow confidently assured that this body pillow is different from others.
It will never flatten, clump, or lump over time. I have been using some other full body pillow during my pregnancy , it uses to be very fluffy in the beginning, but after several months of using it get flatten. But with Moonlight Comfort U total body pillow, You are worry-free.
4)
Extremely Resilient
Allowing for thorough washing and easy drying, even at high temperatures.
Fusion Fiber is made from a polyester polymer with extremely high heat resistance. Each strand is highly polished to insure that the fibers move easily against each other to avoid lumping or clumping.
Next, they are twisted or spiraled to give them a soft springy rebound when compressed in use.
Finally, the fibers are joined in a conjugate fashion (symmetrical) resulting in a small cluster between one eighth to one-quarter inch in diameter.
The varying size of each cluster allows them to fit together and fill the voids between themselves providing a very comfortable sleeping surface.
5) Product Safety
The entire Moonlight Comfort U Pillow is tested independently, parent, and baby approved. The company Moonlight Slumber puts a high priority on your health first, and that's why all of their products go through extensive internal and external testing.
All products are fire and flammability tested, non-indoor air polluting, and contain no chemical fire barrier, antimony, or chlorinated TRIS. With all this, I can be assured safety first when using this maternity pillow.
Moonlight Comfort U Total Body Pillow Benefits
This Moonlight Comfort U pillow is specially designed for those with health issues that prevent them from getting a good night's sleep. Aches and pains that people usually miss to take much-needed rest due to not sleeping in the correct alignment position can be reduced with this body pillow.
1) Relieve Your Pain
Body ache is one of the nightmares that pregnancy mother is suffering during pregnancy. It causes many sleepless nights that might cause health issues.
With this comfort U total body support pillow, It aligned your neck, shoulders, back, and hips throughout the night and give me less pain and feel relaxed and more ready to deal with the day to come.
Mothers suffering from back pain due to excess weight and increased abdominal stretching are expected to receive the support they need to reduce spine and muscle tension.
It is also handy for people who are suffering from sleep apnea, cold or flu, migraine, and sciatica.
2) Remain Cool
Pregnant Moms is also experiencing body warmer than normal during the pregnancy. Usually, when pregnant moms sleep with the body pillow, it will gain extra heat to the body due to no air flow which cause pregnant moms unable to sleep well over the night.
But with this comfort u pillow that filled with fusion Foss that is made from a polymer that is heat resistant. known as synthetic "extended polymers," the air is allowed to flow freely, keeping the user free from overheating.  and you will never ever feel overheat during the night
3) Provides Unparalleled Support and Versatility
Although you are in the site that all about pregnancy. But Comfort U Total body pillow is not limited to pregnancy usage only
The original Comfort U pillow is long enough to allow you to stretch out, plump enough for support, and curved to perfectly cradle your body.
Reposition any way you like for watching TV, working or reading in bed, alleviating aches and pains, or simply comforting you into sleep.
You will definitely beneficial from this U shaped body pillow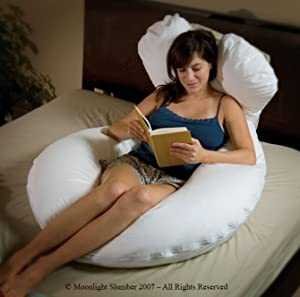 5) Back and Side Sleepers Gifts
If you are back sleepers or a side sleepers, This comfort U pillow is a treasure to you because its oversize which is long enough for you to stretch out and support both sides of your body.
with more 360-degree support than ever before. No matter front of back. It support perfectly and help to reduce the pressure from your back and belly to give you more comfort and relax position. This will reduce your back pain tremendously.
I hope you like our article and find a lot of useful information in our Comfort U total body pillow review, that helps you to make a valuable decision. and if you need more information, you can check our best pregnancy pillow in 2020 that might give you another surprise.
A right pregnancy pillow is a must-have that keeps its shape, suits your support needs, and is comfortable enough to use every night. It should be made of quality material that is breathable, washable, and hypoallergenic.
If the pillow you are currently using does not meet these standards, you may want to consider a different type of pillow.
If you ask me, then yes, if you need a big wrap-around body pillow, it's a worthy product for you. Even though it is pricey compare to other full sizes u shaped pillow. you will have worry-free about the quality of the products.
So, what are you waiting for? Simply click on our link to keep yourself from pain and have a comfortable pregnancy all time.
Leave your comments and questions about this Moonlight Slumber Comfort U Total Body Pillow review in the comment section. We promise to answer your questions as soon as possible because we know that you are having the same problem as us.
And don't forget to share this article to help other mommy that having the same problems!