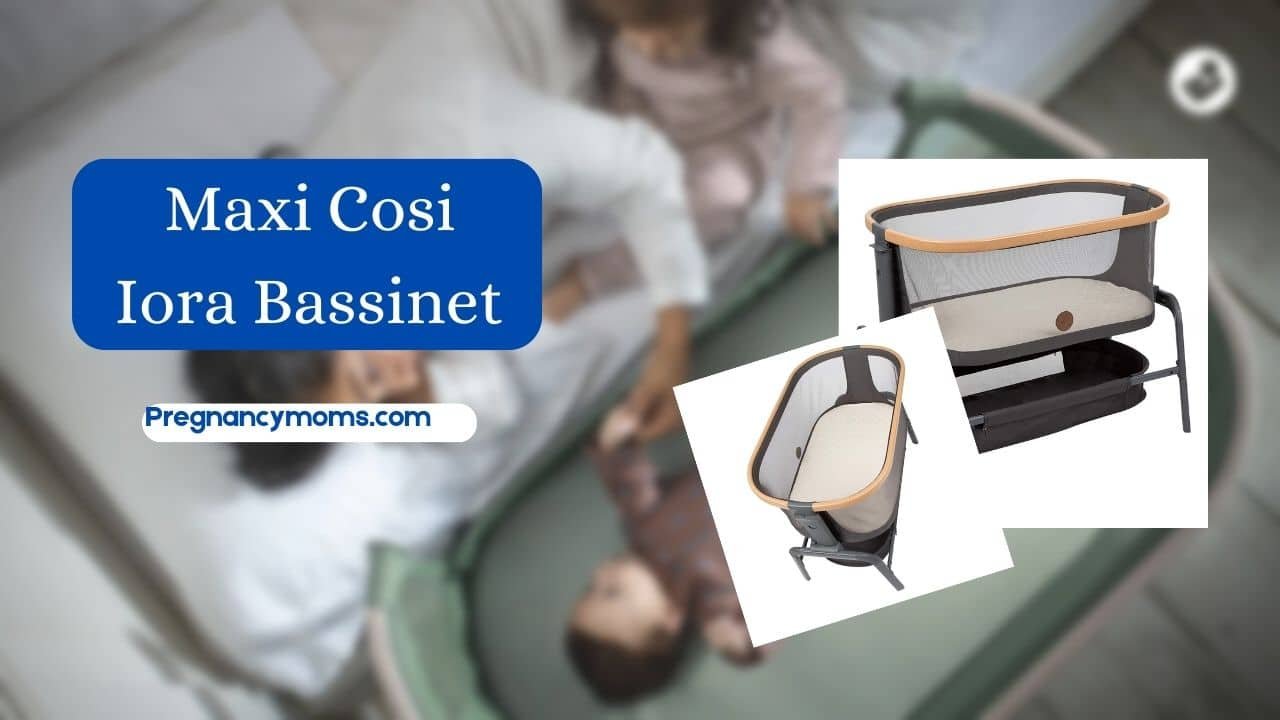 Maxi Cosi Bassinet Reviews
Maxi Cosi Bassinet is a versatile and comfortable option for parents who want to provide a safe sleeping space for their newborns. A bassinet is an essential item for a new parent as it provides a cozy and secure environment for the baby to sleep
in. In this review, we will evaluate Maxi Cosi Bassinet from the perspective of its safety, comfort, versatility, and overall value for money. We will also take a look at its features and benefits to help you make an informed decision about whether this bassinet is the right choice for you and your baby.
 Keep reading to learn more about this Maxi Cosi Bassinet Review to get more information before you bump into buying a basssinet for your baby.
3 Slide Functions
5 Position Adjustable Height
Large Size
Underneath Storage
Mesh Sidewall For better Airflow.
Easy assembly
Easy to carry for travel
Higher Prices
No Vibrations and Melodies
Product Specification
Product Name

Maxi Cosi Iora Bedside Bassinet

Brand

Maxi Cosi

Age Limit

 up to 9-12 months

Item Weight

26.9 lbs

Weight Limit

 20 lbs

Adjustable Height

 29 " to 33 " Inches

Sheet Size

 32″ X 20″ Inches

Mattress Size

 32″ X 20″ X 1.4″ Inches

Dimension

 35 X 20 Inches

Availability

In Stock

Rating

⭐⭐⭐⭐ ☆ 

4.5

/5

Price
$ 269.99
Maxi Cosi Iora Bedside Bassinet Reviews & Features
Maxi Cosi Bassinet is a popular baby bassinet that offers a comfortable and safe sleeping space for newborns. We have list down below the details review of the Maxi Cosi Bassinet based on its features, pros, and cons.
So, let's take a deep insight into Maxi Cosi Bassinet Reviews:-
1)

Lightweight and Easy To Carry
The Maxi-Cosi bassinet is designed to be lightweight and compact, making it easy to transport and store.
The bassinet weighs just over 26.9 pounds, making it one of the lightest options on the market. You can easily carry up and down stairs in your home without much effort.
The compact design also means that it can fit easily into small spaces, such as the trunk of a car or a closet. The only downside on bassinet is it does not have wheels to move the bassinet while your baby is sleeping.
It is also one of the best foldable bassinets due to its portability and mobility, you can simply fold it into the bags that comes along and bring it whether you are visiting a friends for a sleepover or going on vacation.
2) Modern Design
Maxi Cosi Iora is versatile and stylish bassinet in my opinion. We can use this 2 in 1 bassinet as side bed bassinet or standalone bassinet as per our own need. Usually we use it as standalone bassinet during the day and side bed bassinet during the night.
The features that i love most is the 5 position adjustable heights. By simply press the button, you can adjust the bassinet to your preferred heights making your self more comfortable to take care of your baby whether you are lying down or sitting on the chairs.
And similarly, its 3 level slider bring it close to you bed.
The Maxi Cosi bassinet's dimensions are 40.55 x 22.44 x 7.28 inches, and the item weight is just 26 lbs, which makes it one of the lightweight bassinet.
Lastly, Maxi Cosi Iora bassinet is made from a breathable mesh fabric that allows air to circulate freely, keeping your baby cool and comfortable. The mesh fabric also helps to reduce the risk of overheating, which can be a concern for newborns.

3) Easy Maintenance and Assembly
I am kind of impress of the features Maxi Cosi Iora Bassinet has, which is easy to assembly or disassembly. Anyone can actually do it as it is without any bolts and nuts. You just need few minutes to assemble it once your check out the maxi cosi bassinet installation guide or check out the video below for more guidance 
You can find large storage under the bassinet which allows you to keep all the baby's goods under your arm's reach. This is really a large storage basket unlike those with only a small pocket on the side that carries a bottle and a couple of diapers. It is a plus point for this bassinet.
The exciting part is cleaning the maxi cosi iora crib, it is very easy and straightforward. I believe all moms love it because less hassle and you can keep your bassinet always clean and hygienic.
The cushion is 100% polyester cover foam mattress pad and is machine washable, simply take the fabric out and put it in to the washing machine and thats all. Then wipe the frame with a wet cloth and and you're done. Isn't simple? Always remember to clean your bassinet with child friendly detergent to keep your bassinet hygienic.
4) Soft and Cozy Mattress
The bassinet comes with a soft, breathable mattress that provides a comfortable sleeping surface for your baby.
It is one of the most comfortable & supportive mattresses your child can dream if.
This soft, padded and cozy mattress is 100% polyester is removable and washable, making it super convenient for you to wash it periodically.
However, we still highly recommend to have 2 extra sheets & mattress because anyhow you are going to use the bassinet for almost 1 year. It is good to have a spare one to attend unforsee situation.
The Maxi Cosi Bassinet has a sleek and modern design that looks great with any stroller. It comes in several color options to match your stroller or personal style.
Maxi Cosi Bassinet Benefits
With the overall features above,  It makes Maxi cosi iori bassinet one of the best and perfect travel bassinet for infants. Below are top 4 benefits you can expect from this bassinets.
1) Safety
Maxi Cosi bassinets are designed with safety in mind. They feature a sturdy, stable base and secure harnesses to keep your baby safe and comfortable. They also meet or exceed safety standards set by regulatory agencies, so you can rest easy knowing your baby is protected.
2) Comfort
A Maxi Cosi bassinet provides a comfortable place for your baby to sleep, thanks to its soft, supportive mattress and cozy interior. The interior is also designed to be breathable, which helps regulate temperature and prevent overheating.
2).

Portability:
Maxi Cosi bassinets are lightweight and easy to transport, which makes them ideal for families on the go. They can be easily moved from room to room or taken on the road, so your baby can sleep soundly no matter where you are.
3)

Convenience
Many Maxi Cosi bassinets come with convenient features like adjustable height settings, removable covers for easy cleaning, and foldable frames for easy storage. These features make it easier for parents to care for their babies and keep their living spaces tidy and organized.
Overall, the Maxi-Cosi bassinet is a great choice for parents looking for a lightweight, breathable, and easy-to-clean sleeping space for their newborn.
This bassinet can be use in 2 ways, as standalone bassinet or a bedside bassinet. Is very convenient for parents!
The most valuable features is this bassinet is easy assembly, lightweight and portability which make it travel friendly bassinets.
Also, the fabric in the mattress and around the mesh is 100% polyester which makes you easy to clean and maintain.
Lastly, with large storage basket underneath, You have sufficient space to store all require baby essentials without need to spend extra bucks to buys separate baby storage basket again.
Maxi Cosi bedside bassinet comes with 3 amazing colors, grey, essential blue and graphite. So, what are you waiting for? Click the button for the best price today!
Based on these criteria, I would highly recommend the Maxi Cosi Bassinet to any parent in need of a safe and comfortable sleeping solution for their newborn. 
Leave your comments and questions about this Maxi Cosi Iora Bedside Bassinet reviews in the comment section. We promise to answer your questions as soon as possible because we know that you are having the same problem as us.
Other Pregnancy Pillow Review you might interest:
Chicco Close To You Bassinet Review Welcoming a newborn into the world is a joyous occasion, but...