Are you planning to get a pregnancy pillow for yourself during pregnancy. But not sure what type of pillow is best suit you? Well, You will know how to choose a pregnancy pillow that best suits you after you finish this article. I promise!
Giving birth to a new life is not less than a miracle. Going through the various stages of carrying a baby in a bump proves to be a roller coaster of emotional and physical transitions.
The morning sickness, aching body, depriving of the best possible position, swollen limbs are some of the inconvenient and troublesome situations to deal with.
The situation gets really tough when the bump starts giving appearance. The third trimester is even more challenging for the expectant mother.
You keep on trying for the positions that put less pressure on your bladder. To attain a suitable position during these sleepiness nights is all you want from life.
As more than 2500 moms to be in a study that was held in 2015, found, "being unable to find a comfortable position became almost universal by the ends of the pregnancy." Source
In the light of these facts and figures, doctors and the midwives recommend some pregnancy tools and user-friendly devices to soothe expecting mothers during their challenging journey.
The PREGNANCY or MATERNITY PILLOW is one of those devices. These are equally recommended by sleep therapists and as well as by the women who have already been the mothers.
These sorts of pillows are aimed to give you more comfy experience during your pregnancy time. The maternity pillows are used to lessen the disruption you face during those long weary nights with inadequate sleep.
This article will give you A COMPLETE GUIDE THAT HOW TO CHOOSE A PREGNANCY PILLOW that fit for yourself during your pregnancy.
What is Pregnancy Pillow/Maternity Pillow?
A maternity pillow or a pregnancy pillow is a specially designed pillow for pregnant ladies to give extra support to contours and curves of the body that pregnancy gives rise to in women.
These pillows either target a particular area of the body or, most of the time, help you by providing FULL BODY SUPPORT for a long span of time so that you don't get exhausted easily.
The pregnancy pillows are available in different shapes offering utmost support to get rid of usual aches, an expecting mother faces while growing a baby in her womb.
These pillows have the inbuilt quality to provide neck and shoulder pain relief.
These are also well supported to your midriff, especially in the second and third trimester.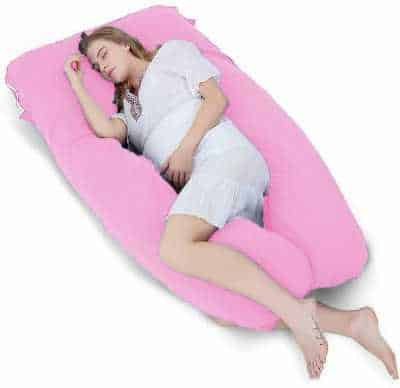 By full-body coverage, they aim to help you in attaining different sleeping positions by aiding you with joint and sciatic pain relief. The SPECIAL DESIGN OF PREGNANCY PILLOW helps to bear and provide support to belly weight.
Pregnant women can easily snuggle up in these pillows by attaining the most convenient positions while resting their head, back, and pelvic area.
Every Pregnant woman is different from each other, and I believe every pregnant mom need to have special care. That's why there is different types of pregnancy pillows have been designed in the market with is pros and cons. So that it meets the needs of different pregnancy moms.
Now, Let's dive into how to choose a pregnancy pillow
How to Choose A Pregnancy Pillow
Let me briefly describe what kind of thing I will consider when buying a pregnancy pillow for my self, and many of my friends do take this into the consideration as well and in the end they do find their perfect pregnancy pillows. I hope that this will help you too!
1) Sleeping Position
The focal point of all the discussion in choosing the best type of pregnancy pillow is
what position you are habitual of?
Which posture you usually attain and most comfortable in a while sleeping?
This is one of the most significant features before you choose a pregnancy pillow for yourself.
According to the National Sleep Organization, "if you're a usual back sleeper, a pillow that goes behind your back might be a good choice. If you don't usually use many pillows or blankets, a large, contoured design might feel smothering, while a small wedge might be just enough.
2) Will It Be Useful After Pregnancy?
The best choice in choosing the pregnancy pillow is its advantage, even after your pregnancy. In case you have your C section, you must opt for the pillow that allows your proper spinal alignment. The initial days, right after C section, are the most challenging with regard to your stitches. You are less able to attain side positions. You must acquire safe sleep positions during this time.
3) Having A Pillow Cover
Sweating at night is a normal phenomenon in expecting ladies. The pillows having the outer cover won't make you agitated when it comes to washing. The pillows having zipper are easily removable and washable. They won't compel you to carry the big fluffy pillow to the laundry for washing purposes.
If you go shopping often, you must know that there are several materials available in the market, from foam to beads for the normal pillows.
The same goes for pregnancy pillows. When it comes to CHOOSING A MATERNITY PILLOW, you need to check first and foremost which pillow material you prefer by understanding your body temperature.
You must go for the pillow whose fabric and as well as filling suits you the best. Experts are of the view that NEITHER FLUFFY AND EXTRA SOFT WOULD WORK NOR THE HARD AND FIRMED ONES.
The softness of the material should be MEDIUM. Only this sort can be well supported in your different body areas. Moreover, the extra softness also fails to provide pain relief; the pregnant women usually go through.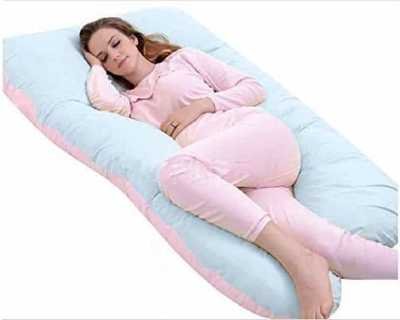 Some of the maternity pillows are warm, having more percentage of polyester in it. If your body is warm, Then this is not a good idea for you indeed.
Most of the expectant mothers rather go for the material that is 100 % cotton. So your choice should be breathable material rather than the one that is less breathable.  
You should make sure that the fabric is cooler than its competition. The night sweats are common during pregnancy.
By choosing natural fabric, it will help you reduce the level of discomfort during the nights of the summer season.
6) Size of the Pregnancy Pillow
There are different sizes of pregnancy pillow available in the market. 
The pregnancy pillow ranges from a normal pillow to the curved full body pillow that fits you inside itself by hugging you from the front and the back. The size of the pregnancy pillow matters a lot.
When you are choosing the pregnancy pillow, you must keep in mind the transitions your body will go through your first, second, and third trimester.
So before going to pick the one best pregnancy pillow for yourself, you would see a few of the following things in anticipation.

What is the size of your bed?
Will it need to downgrade your partner to the couch?
Can you use your maternity pillow other than the bed?
Where to keep when not in use?
What is your best sleeping position are you the most comfortable in?
Will a specific size suit the need for the little one when it arrives?
So by answering these questions, you can choose the best size of your maternity pillow for sure.
These are some basic guideline from me on how to choose the pregnancy pillow shapes:-
Twins or more:- U-shaped pillows are most recommended for women who are pregnant with twins because their stomachs are more prominent and more substantial pillows provide better support.
Plus-sized women: C Shaped Pillow are more ideal for plus-sized women. The design of the pillow will allow you to fit in comfortably.
In the light of these features, choose the pregnancy pillow that suits best to your needs, and remember it can vary from person to person.
Final Thoughts
Getting the most suitable pregnancy pillow for pregnant women is rather very important. It keeps pregnancy moms in comfortable condition and having great sleep throughout the 10 months pregnancy.
This will relatively impact the health and mood of pregnant moms.
So, in my opinion, Knowing how to choose a pregnancy pillow that suits us is the utmost important knowledge that pregnant moms need to have! If this article has provide information that you need and you are really looking  for a pregnancy right now. Click here to check our best pregnancy pillow that we recommend!
Now it's your turn. leave your answer in the comment box, what you are doing to choose to best pregnancy pillow for yourself? Your decision will help other pregnant moms to make a quick decision.
And finally, don't forget to share this article because sharing is caring.