There are many different types of pregnancy pillows that come in different shapes, designs, and sizes.
Differently designed pregnancy body pillow serves different advantages and attributes.
According to research, Using a pregnancy pillow does help you significantly ease your body aches and pain.
But, a single type of pregnancy body pillow does not fit all. Therefore, You need to identify what are the best pregnancy pillows that suit you based on your needs.
So, what is the different types of pregnancy pillows?
In today's articles, Let's dive into all kinds of different types of pregnancy pillows in the market. When you know it, you will know what suits you the best. 
Just keep reading this until the end.
8 Different Types of Pregnancy Pillows
Pregnancy Body Pillow has helped many pregnant moms throughout the pregnancy pillow. Have a better night's sleep and reduce those pregnant pain from all over the body.
But there are so many different types of pregnancy pillows in the market. You might confuse what kind of pregnancy pillow to get? Which type of pregnancy pillow is best?
Learning How to choose the best pregnancy pillow for yourself is far more important than asking what is the best.
Now, Let's explore the types of pregnancy pillows so that you can make better decision before buying any of the pregnancy pillow for your self:-
The wedge-shaped pillow is so far the smallest pillow. This pillow designed for relieving strain from your belly when you sleep sideways.
It can be used to targeting other specific areas of your body too that need to be propped up rather than the whole body. It generally in a triangular or round shape.
These wedge shaped pillow are good for postpartum too. As it allows your back has more support and comfort when you are feeding your baby.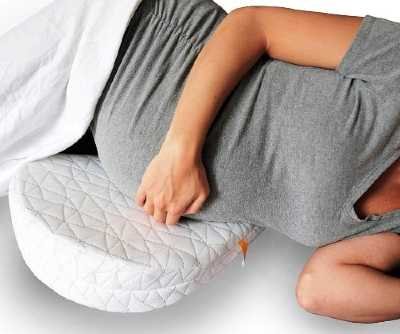 Shape
As for the form, the most prominent feature of this pillow is its incline. The Wedge Shape pillow has a crescent-shaped and triangular shape with a slope.
The incline gets fit into a specific area and provides support to it.
Size
The Wedge Shaped Pillow is small in format than its competition. The incline of wedge support pillows ranges higher to lower. It ranges typically from 7 inches to 12 inches.
The higher incline can best be used for sitting positions, like reading, eating, or enjoying a favorite TV show. While the lower slope goes best for attaining various sleep positions.
Benefits Of Wedge Shaped Pillow
Small and easy to bring along.
Support your belly, best for side sleepers
Help to relieve pressure from your belly
C Shaped body pillow is designed to follow the contour and shape of your body. It helps you to relieve back pain, neck stiff and lower back pain.
The C Shaped Pillow is perfect for pregnant women with a full body covered surrounding to support your back, lower back, hip, leg, and feet support.
The flexible shape is adjustable when you are reading, watch TV, or baby feeding. This helps to relieve your pain, pressure, improve sleeping, feeding, and blood circulation.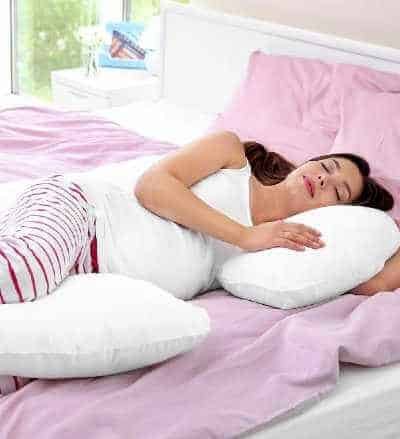 Shape
It's evident from the name that this particular pillow comes in a C shaped. It has a large rear curve and front arms to snuggle up against.
It provides you better sleep throughout the night while adopting different positions with it. It helps to stress off of affected joints and the muscles.
Size
This pillow is large as compared to many of the other pregnancy pillows from wedge to a body pillow. One does not require any extra pillow for the head or any other place by using the C shaped pillow.
Benefits Of C Shaped Pillow
Help to relieve back, hip, and legs pain.
Support and prevent turning and roll over at all times.
Perfect use even after giving birth. Can be used to support babies during breastfeeding
Check Our Best C Shaped Pregnancy Pillow
The J Shaped Pillow is a full body pillow. These pillows are ergonomic and allow you to get a good night of sleep throughout your pregnancy.
With the oversized J shaped design, the pillow can follow the shape of the pregnant moms, and it is long enough for you to stretch out and support your body.
This type of pregnancy body pillow helps to reduce pressure from your body weight. It also supports your belly, back, waist, legs, knees, and neck to ease your burden and discomfort.
Shape
A letter J body pillow. It is designed to support either side of your body – front or back, head or leg.
You can use the J curve to support your head and neck. Either way, you can use it to support your hip to help to relieve pain.
Size
Compare to C Shape, it is smaller and easy to store. and at the same time, it takes lesser space on your bed.
Benefits Of J Shaped Pillow
Good for side sleepers
Supports your belly, back, and waist for pressure relieves.
Support heads and neck.
U shaped Body pillow (or U-shaped Maternity Pillow) is a giant "U" types of pregnancy pillows. It covers your whole body from all angles (back, hips, knees, neck, and head).
This helps ease discomfort associated with pregnancy, sciatica, fibromyalgia, gastric reflux, and more.
These types of pregnancy body pillows support your back as your belly grows bigger.
And depends on your sleeping position, it can prop upfront and back once you begin sleep sideways in your 2nd trimester.
Total Body Support and help relieve back pain to get better sleep, reducing interruptions throughout the night.
Great for the whole family to enjoy.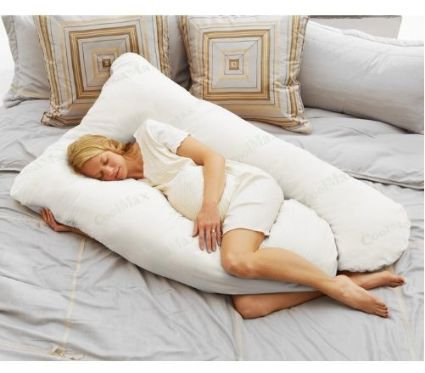 Shape
As the name suggests, this pillow forms U in shape. It is an ergonomically designed pillow that gives support to every part of the body by hugging you from front and back.
Size
It is the biggest pillow in size amongst all available pregnancy pillows. The size of this pregnancy pillow is that of a small personal boat. This maternity support is highly beneficial in the latter days of pregnancy when the bump is fully grown.
To pen off, we can say that various moms go through different pregnancy experiences. They themself are in a better position to decide when they need a pregnancy body pillow with extra support
Expectant moms can get benefitted from a different pillow in each trimester.
Benefits Of U Shaped Pillow
Full body support from front to back.
Help to alleviate pain from all angles such as the back, lower back, lumbar and etc.
Can be used as a multipurpose pillow, breastfeeding, Reading, and lying comfortably to watch TV.
Check our Best U Shaped Pregnancy Pillow
5. Inflatable Pregnancy Belly Bed​
There are 2 types of design of inflatable type of pregnancy pillow. One is with face holes and another is without face holes.
Compare with other pregnancy body pillows. This inflatable type made of PVC and inflated by air.
Therefore, It might not as comfortable as those made in cotton and fabrics. But because it was made by PVC, it fits perfectly on the massage table if you love to have a prenatal massage.
And also it is perfect to enjoy your summer laying out under the sun or in the pool.
Benefits Of Inflatable Pregnancy Belly Bed
Perfect for stomach sleeper lying on top of your belly
Supporting your big belly
Best for prenatal & postpartum massage
A v shaped support pillow normally used on top of the normal pillow. It helps provide elevation when needed.
This type of body pillow is very useful when you have injuries to keep your neck or head elevated.
In addition, this support pillow provides support to the lower back pain for pain relief.
Normally, Pregnant moms use this pillow in between knees when sleeping sideways.
This helps to relieve pressure from the lumbar and also the lower back.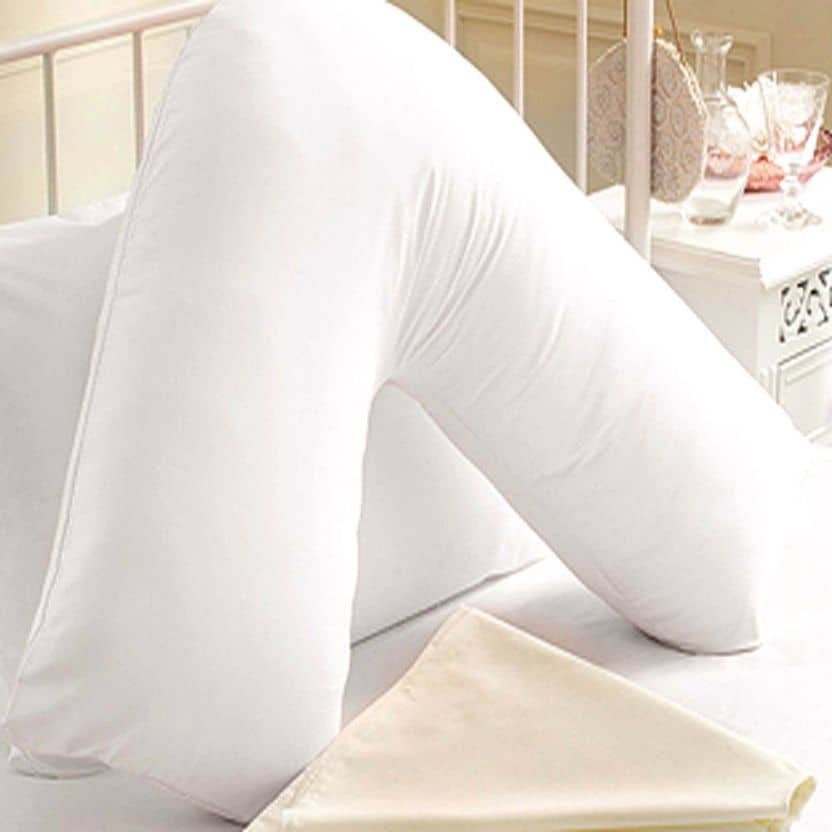 Benefits Of V Shaped Pillow
Helps to alleviate back and lumbar pain
Use as a breastfeeding pillow by keeping you sit up better.
Great support for reading. It can be propped on the head or used on top of a normal pillow. Allow you in a more comfortable reading position.
7. Long Pillow (Straight Body Pillow)
A long pillow is like a bolster pillow. But it is even longer and bigger than a bolster pillow.
This pillow is long and provides the entire body with a cushion. It support the belly efficiently and provides good relief for the arms and legs. 
Although it is nice to hug and cuddle, it does not provide much back support, because it can not be effectively put behind the back to provide enough support.
But, by putting your belly in the middle of the pillow, you can wrap your arms and legs around it.
It can still help to relieve your belly pressure and also hip pain problem.
Is  another good option for a side sleeper.
Benefits Of Long Pillow
Supporting your belly to alleviate pain
Big enough to support your back while sitting up
Perfect hugging pillow
L Shaped Pillow is almost the same as J Shaped Pillow. It just that it does not have a curve like J.
The L Shape Pillow is long, which means there will be an excess cushion. It is good to use for lounging on a bed or sofa compare with a chair with high arms.
This pillow is often used as a pregnancy pillow to alleviate sleep pain or as a breastfeeding pillow to relieve back and neck pain.
The long part of L Shape pillow, when you sleep in the front part. It helps to support the big belly and relieve the pressure.
When you adjust to sleeping on your back, It helps to rest your back and relieve your back and lower back pain. 
It is great for side sleeper that love to hug.
Benefits Of L Shaped Pillow
Can be used even after birth
Help to support baby in best position without compromising your own posture
Help to relieve back and hip pain
BOTTOM LINE
So now you had known what is the types of pregnancy pillows famous and available in the market.
Amongst the above, what is the most comfortable pregnancy body pillow?
Well, That really depends on the individual. Every single type of pregnancy pillow is designed to help to relieve your body pressure during pregnancy.
Some like full-body support pillows and some prefer small and easy to carry the pillow. But the most important thing is that. Which one suits your needs?
As U Shaped Body pillow is basically bigger that might consume a lot of your bed space. While a smaller pillow might not supporting every single angle of your body during your pregnancy.
You can now check here to see the best pregnancy pillow.
Now, it's your turn, leave your comments and questions about the "Types of pregnancy pillows" in the comment section. And we promise to answer your questions quickly.
And don't forget to share the article, because sharing is caring