Boppy Side Sleeper Pregnancy Pillow Reviews
The Boppy Side Sleeper Pregnancy Pillow is one of the smallest yet very effective pillow in the market. It has the compact design that saves space in your bed while allows you to sleep comfortably. And because of the small size, It is very suitable for pregnancy women to bring along while travelling.
The Boppy maternity pillow is versatile and multi use, its little supporter helps you get comfy while sleeping, but also while lounging or sitting. This small side sleeper pillow will help you stay on your side with two connected pillows providing the perfect support for your back and baby bump while side sleeping.
If you really want to get rid of your uneasiness, then this could be your best investment. You can even use them after pregnancy. These pillows provide relief to your back, and during pregnancy, they help you on your sleeping positions to sleep better and faster.
A lot more features to know, So keep reading our Boppy Side Sleeper Pregnancy pillow reviews.
Great to help transition from back to side sleeping
Less space required compare to full body and C shaped pregnancy pillow
Multiple usage with multiple position
Entire Pillow is Machine Washable
Affordable
The Fabric may not stretch enough as you progress into the late stages of your pregnancy
It will not replace a traditional head and neck pillow. It is more of a spot specific pillow
Unable to cover other parts of body compare to Full body pregnancy pillow
Less comfortable to use all night long (in my personal experience)
Product Specification
| | |
| --- | --- |
| Product Name | Boppy Side Sleeper Pregnancy Pillow |
| Brand | Boppy |
| UPC | 769662555050 |
| Items Weight | 1.65 pounds |
| Dimension | 14.2 x 6.2 x 13 inches |
| Cover Style | Zipper |
| Material Type | Polyester |
| Availability | In Stock |
| Rating | ⭐⭐⭐⭐ ☆ 4.5/5 |
| Price | $ 29.84 |
Boppy Side Sleeper Pregnancy Pillow Reviews & Features
Pillows make you comfortable while you are trying to sleep. There are various types of body pregnancy pillows made to serve various different purposes. Some pillows are custom made while others are just simple with some design on them, but when we specifically talk about pillows for pregnant women, then there is a limited number of quality pillows available in the market.
So, Let's take a deep insight into Boppy Side Sleeper Pregnancy Pillow Reviews.
1) Compact Design & Size
Boppy Side Sleeper pregnancy pillow is are specially designed for all pregnant women, and these pillow can be used by anyone having back pain issues. Side sleeping is really painful for some people because of their back issues.
This Boppy pregnancy pillow weight only 1.65 lbs which is lightweight and the dimension is 14.2 x 6.2 x 13 inches. Small, easy to bring along while traveling.  
You must invest some money on these pillows if you are serious about your maternity health and your own health. This small spending can save you a lot of money on unnecessary treatments.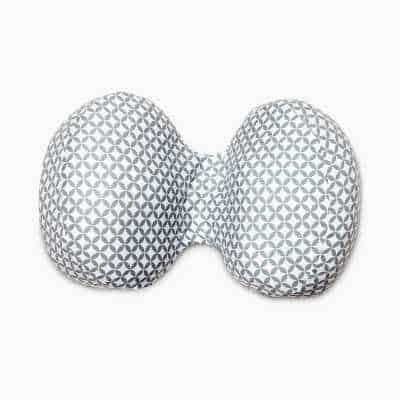 3) Multi-Use and Versatility
You may order these maternity pillow just for your pregnancy period and to sleep well, but it's just a glimpse of its usage. You can use it in many different ways.
If you mostly sit on a chair all day long, then you can try these boppy body pillow because they will keep your lower back relaxed, and you will be able to work for longer periods. 
Do you want to enjoy your favorite show relaxing on your couch, but your lower back aches? Then you must use these body pillow because you can easily put them on your couch to enjoy your T.V shows comfortably.
The usage list of these body pillow is never-ending. It depends on you how you use them and how you maintain them.
4) Easy Washable Pillow Cover and Care 
It's obvious that when you use these support pillow, they will get dirty, but do not worry, there is a ready-made solution as well.
There are pillow covers present on these support pillow, and luckily, these pillow covers and removable and changeable. 
You can wash them whenever you want, and you can make your customers cover yourself.
The pillow cover material is really soft but still rigid, and it will not tear up so easily, so the risk is eliminated here as well.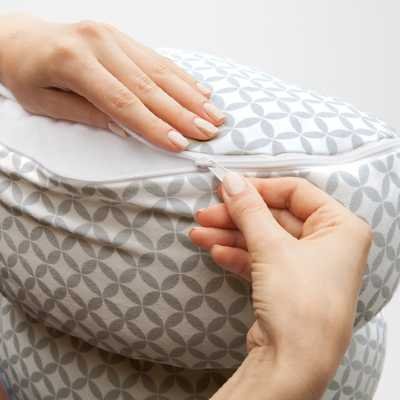 5) Stretchability Pillow Cover
You may wonder that these body support pillow will not fit your body, but you are absolutely wrong.
The body pillow is stretchable from the center, which means that they will maintain themselves according to your back or body. They will softly hug your body to provide it support.
They support your body in such a way that all your pains are gone after some days of usage. The stretchable part of these pillows is of good quality as well. It will never tear up until you cut it yourself.
The stretchable qualities make this boppy pillow flexible for everybody, whether you are skinny or fat.
After exploring all of its features and reading our Boppy Side Sleeper Pregnancy Pillow reviews, I'm sure you'll agree with me that the Boppy Side Sleeper Pregnancy Pillow is an excellent investment for yourself.
Boppy Side Sleeper Pregnancy Pillow Benefits
Boppy Is a
well-known brand
 and has been designing beautiful and useful pillow for pregnancy moms and also babies for a long time in the market.
The Boppy side sleeper pregnancy pillow is once of the useful design that does not take up a lot of your bed space yet effective for all pregnant women because they mostly face issues while they are trying to sleep with one-sided.
These pillows are specifically designed to overcome their maternity sleep issues. Not only for pregnant women, but every person who wants to comfort their back can use these versatile pillows.
The boppy side sleeper pillow will help you at every point, whether you are sitting or sleeping. Here are some benefits of using these pillows.
1) Relaxation and Pain Relief
All those women who are passing through the maternity period face different physical problems where they have severe back pain. The main reason for these back pains is your way of sleeping during pregnancy. 
Do you sleep on one-sided? Is it uncomfortable for you to sleep like that?
If your answer is a YES, then these body support pillow are obviously made for you. Your back will be much more relaxed than ever. Relaxation is important during the maternity period. So make it as easy as possible.
2) Better Body Posture
Essentially, this boppy side sleeper pregnancy pillow is 2 pillows connected by an outer cover with the center that sort of anchors the pillow to your bump and your back.
You can use it against when you're sleeping on your side, but you can also use it sitting up, wrap around you, or to elevate your knees.
This allow you to get the best sleeping position to  improve your posture
3) Better Sleep
Lastly, Boppy side sleeper pillow really does what it's intended to do, which is to keep you comfortable while you're sleeping on your side.
You can use it for your knees and for your back while you're sitting up as well. Just keep in mind that it's going to feel pretty snug, you are anchoring yourself in the middle of 2 pillows at night, so these pillows are not going to go anywhere.
Furthermore, because of the soft and firm material of the pillow. It did make me feel more comfortable and it follows the shape of your body. I personally found this pillow the most comfortable when I napped. 
Are These Pillow For You?
If you ask me, Yes, they are obviously for all those people and pregnant women who are actually facing any issue in their sleep. If you are facing issues for your one-sided sleep, then these pillows are for you.
If you pregnant women are looking for some comfort for their baby and themselves, then these pillows are for you. If you are someone who keeps sitting at a single place like a couch or chair, then these pillows are obviously yours.
Do you often face lower back & back pains? The main reason for your back pain is your bad posture. These boppy side sleeper pregnancy pillow will help you to correct your body posture, and ultimately, your back pains will disappear. Do not forget to use them while you are sitting on a couch or chair for a long period of time. Put them close your back and then relax your backbone.
Hopefully, our Boppy Side Sleeper Pregnancy Pillow Reviews answers all your queries. Let me know if you still have any questions, any suggestion for this article, we love to hear from you.
Boppy Wedges Pillow is one of the earliest designed maternity pillow but has all the necessary features that you need during your pregnancy.
It is small, lightweight, and portable that allows pregnant women to easily bring it along even during traveling. Even though it is so-called old designed but still many pregnant moms find it very useful.
You can use it anywhere at any time in your workplace, home watching TV and peaceful sleep, especially for side sleepers. It just propped up against your belly and relieved the pressure on your belly.
If you like to see more options, check out our Best Body Pillow for side sleepers.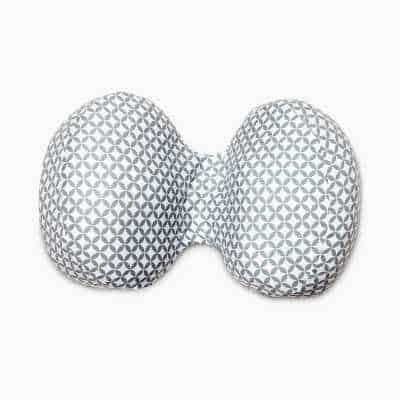 All the
 above features make it the perfect option with an affordable price tag
 that will not disappoint.
A single pillow can positively affect many aspects of your physical health life. For pregnant women, this pillow is a gift, and for others, this pillow is a relief. Click here to check the best price now to accept the best comfort while sitting in your home lounge or bed.
Leave your comments and questions about "Boppy Side Sleeper Pregnancy Pillow Reviews" in the comment section. We promise to answer your questions as soon as possible because we know that you are having the same problem as us.
And don't forget to share this article to help other mommy that having the same problems!