To bring a new life into this world is not a piece of cake. Pregnant ladies keep on getting hard when the belly starts growing during the second trimester. The later part of pregnancy life is more arduous for the expectant mother.
Pregnant women endeavor for sleeping positions that put less pressure on their bladder. To attain a favorable posture during those sleepiness nights is all you want from life.
Is it good to sleep with a pregnancy pillow?
The answer is Yes. A pregnancy pillow helps support the best sleeping position of pregnant women to have a better and comfortable night.
So, Which Shaped Pregnancy Pillow is the Best?
The pregnancy pillows vary in styles and sizes to meet the individuals' requirements. The U shaped and C shaped pregnancy body pillows are the two most popular designs for pregnant women.
Keep reading to understand more about the difference between U Shaped Vs C shaped Pregnancy Pillow.
Difference Between U Shaped and C Shaped Pregnancy Pillow?
As evident from the name, these kinds of pillows make a letter U in a pattern, hence termed as U shaped maternity pillows.
The U shaped pregnancy pillow is more massive than all the pregnancy support pillows available in the market. i.e., wedge pregnancy pillows, straight body pillows, and C shaped maternity support pillows.
As the name indicates, these kinds of pillows make a C in shape hence termed as C shaped pregnancy pillows.
The C shaped pregnancy pillow is more enormous than the wedge pregnancy pillows and the straight body pillows.
Which Pregnancy Pillow is Best? U Shaped or C Shaped?
U Shaped Pregnancy Pillow
These pregnancy pillows are like a horseshoe that comes in a large shape
These are the largest pillow when compared in size with other types of pregnancy pillow.
You can place your head on the curve of the U. With one side is hugged and the other side supports the back
With a U shaped pregnancy pillow, the whole body gets support includes the belly and backs. This type of pillow suits pregnant women who prefer to sleep sideways or on their backs.
Pregnant women who prefer sleeping sideways will have better support to the back and belly using U Shaped body pillow.
Its inner contours are actually designed in such a scientific way that it follows the natural curved shape of the body.
The U-shaped pillow has hourglass-shaped inner curves that adapt better to the body's natural curves.
C Shaped Pregnancy Pillow
This pregnancy pillow looks exactly the way it sounds. Comparing its size with a U shaped body pillow, it is somewhat a little smaller in length & is perfect for a smaller bed.
The C shaped pillow provides support to the head, belly, back, and legs. This helps in reducing feet swelling and discomfort in the pelvis.
Its user places the lower end of the pillow between the legs, in a riding position for lower back and hip support. The head can be put to rest on top of the pillow so that and slide the back comfortably into the C-shape curve.
This helps to relieve the pressure off the spine, which is vital during pregnancy.
For snuggling up and comfortable feeling all night, these pillows are of great help. Pregnancy is a challenging time for a woman. And to get through it, she requires to do proper self-care and look for more comfort when taking rest.
The C shaped pregnancy pillows can be true lifesavers.
Dissimilar Features in U Shaped Vs C Shaped Pregnancy Pillow
1) Size
The size of C shaped pregnancy body pillow is not that enormous; we mean it's big but not too big. The smaller-sized body pillow is available as compared to C shaped pillows like wedge pillows and straight body pillows.
They can offer to back to a targetted part of the body. The C shaped pregnancy pillow provides full-body support while you curl up the pillow and get a comfy experience.
On the other hand, U shaped pregnancy pillow also provides full-body support by cradling the pregnant woman within its precise curves. But the U shaped pregnancy pillow hogs too much of your space.
It takes a good chunk of double bed and queen size bed. You cannot simply buy it without thinking about the capacity of your room.
Getting fit in this U shaped pregnancy pillow gives you a feeling that you are resting in a pillow boat. It can even relegate your spouse to some other mattress or sofa.
The size of both the pillows can either be a pro or a con. The C shaped pregnancy pillow occupying less space. It may not allow you to get as comfortable as U shaped pregnancy pillow because of its smaller size.
The U shaped pregnancy pillow may permit you to adopt more sleeping positions than C shaped pregnancy pillows. However, the folks who have space issues can opt for U shaped pregnancy pillows.
2) Design
The C shaped pregnancy pillow has two open arms or curves on one side like a C. While the U shaped pregnancy pillows lack any sort it.
This distinction is again relative. For a few people, the open curves of C shaped pregnancy pillows may provide multiple sleep positions based on sleep patterns and needs.
While for others, it may prove less comfortable to handle. The U shaped pregnancy pillow without any open side provides complete and consistent support to the belly and the back.
Similar Features of U Shaped vs C Shaped Pregnancy Pillow
1) Designed for Pregnant Ladies
The C shaped and U shaped pillows are specially designed pillows for pregnant ladies.
Pregnant Moms appreciate its comfortable design. Because it provides balance support like midriff by hugging it front and back.
By shape, both pillows have precise curves that support the growing belly without shuffling it again and again.
Pregnant women can snuggle up in this full-body pillow by attaining the most effective positions while resting their head, back, and pelvic area.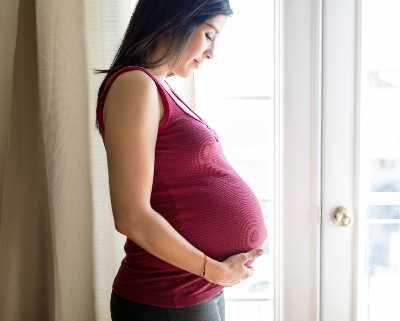 .2) Provides Full Body Support unlike other Body Pillows
Both body pillows provide full-body support. You can benefits a lot from their user-friendly design by assisting your head, shoulders, belly, and lower limbs at once.
They are symmetrical and bestow your required support to every area separately. These excellent pregnancy pillows can be hugged equally from the front and the back. They don't leave any chance for rolling to the other side.
The unique design of these pregnancy pillows helps to bear and provide support to the belly load.
3) Don't Need Repositioning
Every time you try to change your pose or tweak either sides, You can do it without tossing it. Pregnant Moms will not require to repositioning this body pillow by carrying it as a whole again and again.
4) Don't Need Head Pillow
The C shaped and U shaped pillows prevent you from having multiple pillows tossing on your sides and bestow your required support to every area.
With body pillows other than C shaped and U shaped pillows, you require an extra pillow to support your head. Both of these pillows fulfill this need with a firm and comfy head support.
5) Health Benefits
Because of the size and pattern of these body pillows. It allows pregnant women to be carefree about having any dangerous position during sleep.
The pillow provides many benefits such as:
1. Spinal alignment
2. Limbs Support
3. Appropriate Blood Circulation
4. Pelvic Pain
5. Back Pain and
6. many more health benefits.
Both of these accessories offer relief from body aches that have been complained about by pregnant women. It helps to relieve physical tension and body exertion by providing correct backing to each curve of the body itself.
The inflammation of limbs is a common phenomenon during pregnancy. These body pillows alleviate the situation to a great extent. They also resolve the troubles of ligament stress.
6) Allow Various Sleep Positions
These pillows allow pregnant women to sleep in their best favorite position. Both C shaped and U shaped pregnancy body pillows are adjustable between knees, over the limbs, or beneath the belly to provide support.
Both of these pillows are equally great for fulfilling the needs of various sleepers. They are in high demand not only by pregnant women solely but equally popular among side sleepers and as well as back sleepers.
U Shaped vs C Shaped Pregnancy Pillow Characteristic
When sleeping on the back, a pregnant woman can rest her head on the top of the pillow and lay on either side.
Sleeping on the sideways also becomes easy with these body pillows. As the head can rest on the top of the pillow, wrapping the legs around one side of the U shape.
The back and the belly can be fitted into the inner curves of the pillow. Which gives sound sleep, comfort, and perfect support to the body.
Pregnant Women does not require to reposition the pillow during the night. One can simply turn from side to side, and the U shaped pillow is a custom fit according to requirements.
This body pillow is also ideal for use in reading and watching TV. It is ideal for providing support to the mothers while they help the babies at the correct height for nursing sessions.
Many people believe pregnancy pillows are specifically designed for pregnant women. The pregnancy body pillows are very suitable for even stomach sleepers. Its unique design follows the human body shape and is comfortable for anyone who is eager to get a better night's sleep.
The C shaped pillow is designed to follow the natural contour and shape of the body right from head to toe. Not only perfect for sleeping but it also perfect for relaxing as well.
Many people feel discomfort when it comes to the position and height of the pillow. This body pillow helps to adjust the comfortable and relaxed position. Allows getting the right position and height to feel comfortable and relaxed.
The extra length of its mid-section gives the perfect width that is required for the back and belly. Thus reduce the stress from the body and provide a sound sleep.
One of the advantages of the C shaped pillow is that it supports the whole body. Therefore, it can help in providing support in case of neutral positioning.
This body pillow is designed for people who love to sleep sideways without changing their position frequently.
Conclusion
So, Which is a better U shaped or C shaped pregnancy pillow? Well, Both C shaped and U shaped body pillows meet the necessities of diverse users. As the demand varies from person to person, so does the choice. These pregnancy body pillows are capable of offering you tranquil and restful sleeping hours during your pregnancy and otherwise.
If the open curves of C shaped pregnancy pillow may provide multiple sleep positions, the U shaped pregnancy pillow without any open side provides complete and consistent support to the belly and the back. However, in the case of having less space, you can opt for C shaped pillows. If you can deal with space issues, the U shaped pregnancy pillow can serve as an ideal scenario for pregnant ladies. 
If you need recommendations on this pregnancy pillow
Don't hesitate to check out the following article
I am sure that you will definitely find the best one for yourself. And also don't forget to read our 7 Exclusive Tips on How to Choose a Pregnancy Pillow.
Leave your comments and questions about "U Shaped vs C Shaped Pregnancy Pillow" in the comment section. We promise to answer your questions as soon as possible because we know that you are having the same problem as us.
And don't forget to share this article to help other mommy that having the same problems!